Adjustment is an innate ability of every individual; however, this pandemic has revolutionized the entire scenario. Lockdown has made us accept virtual reality as an integral part of our lives. 
The environmental change whether at home or outside has undergone a paradigm shift. The deviations or variations and acceptance have evolved a new changed atmosphere. The journey has not been easy. 
This positive blend has been because of the cooperation at home, school, and workplace which have helped one to sail through.
This new approach from a traditional classroom set up to a screen classroom was not initially accepted by the child, but when it became a daily routine it became an accepted norm. Definitely getting back to the traditional classroom also may be a bit difficult but not impossible.
The climb has not been stress-free but with perseverance and persistence, one has accomplished a lot more than expected.
My personal experience would like to share. I belong to the field of fitness. 
My daughter in Jr KG had accepted the term "LOCKDOWN" in the right earnest, but after a point could not resonate with it. I could see the irritation and frustration of not being able to go out or play with friends. And the statement "Now I am Bored"
That situation made me introspect and think about "What should I do"
I looked at it from a broader perspective and tried probing into what interests her. A lot many vistas opened up, and I realized that her potentialities could be channelized in the right direction.
Along with academics introduced her to the world of art through simple drawings which helped develop her visualizing skills. I familiarized her with singing small bhajans which kindled her interest in music.
In the process, I realized that children have a lot of energy and my child was no different. That is when I got her drawn into meditation, yoga and physical exercises, what started as a fun play got embedded into her as a routine.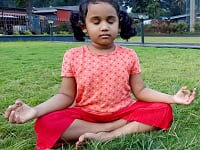 Her mental, emotional and social needs got well catered to, and the dullness in her changed to her bubbliness. The calmness and discipline got ingrained in her in a very unconscious manner.
My experiments with my child have helped me to encourage her in trying out various new ideas especially when I realized that the lifestyle of children of this generation is on an accelerated pace and Yoga will definitely help in developing self-consciousness, building resilience, developing fine motor skills leading to self-expression through mindfulness. I stress the fact that children should be given training in meditation which will lead to the calmness of the mind and breath training that will help in connecting with oneself and the outer world. The outcome will especially help them remain focused on academics too.
We have all geared up to face the future challenges, and will surely learn as we proceed further on this.